Description
The BBC Micro:Bit 10 Starter Kits Bundle is a set of ten Micro:Bit starter kits, designed to provide a cost-effective solution for educational institutions or groups looking to introduce students to the world of electronics and programming. The micro:bit V2 club is a 10 pack containing all the pieces needed to enjoy micro:bit in STEM groups, coding clubs, school classes, scouts, guides and cubs, or any other social gathering. It contains:
10 x BBC micro:bit V2
10 x USB cables (~15cm)
10 x 2xAAA battery holder
20 x AAA battery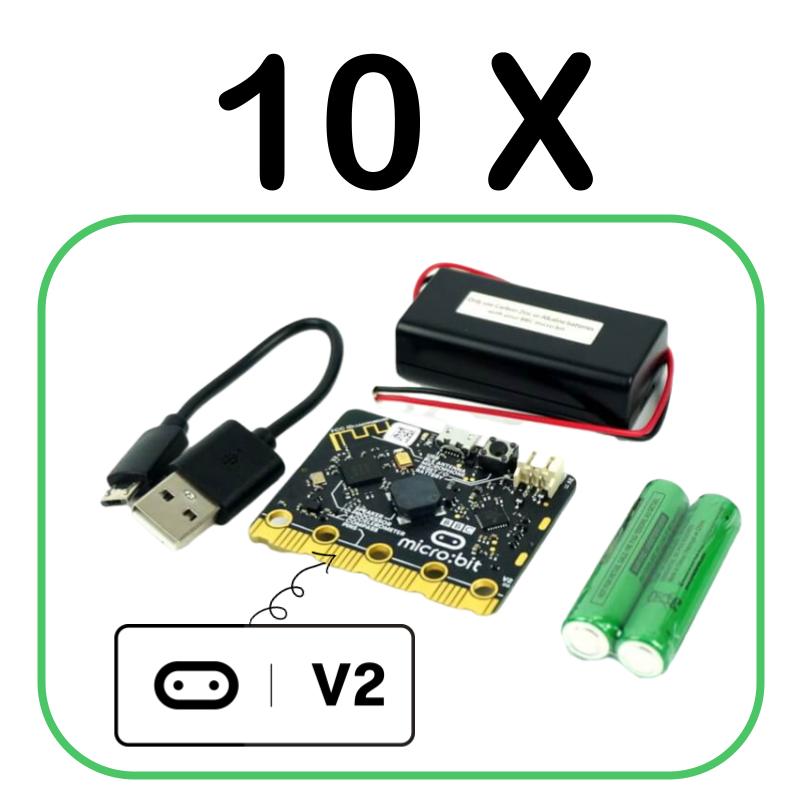 Features
What is a BBC Micro:Bit?
Microprocessor: 32-bit ARM® Cortex™ M0 CPU
A 5×5 LED matrix with 25 red LEDs to light up and can display animated patterns, scrolling text and alphanumeric characters
Two programmable buttons. Use them as a games controller, or control music on a smart phone
On-board motion detector or 3-AXIS digital accelerometer that can detect movement e.g. shake, tilt or free-fall
A built-in compass, 3D magnetometer to sense which direction you're facing and your movement in degrees and detect the presence of certain metals and magnets
Bluetooth® Smart Technology. Connect the micro:bit to other micro:bits, devices, phones, tablets, cameras and other everyday objects
20 pin edge connector: This allows the micro:bit to be connected to other devices such as Raspberry Pi, Arduino, Galileo and Kano through a standard connector
Micro-USB controller: This is controlled by a separate processor and presents the micro:bit to a computer as a memory stick
Five Ring Input and Output (I/O) including power (PWR), ground (GRD) and 3 x I/O.
System LED x 1 (yellow)
What can I do with the BBC Micro:Bit?
Get into programming with this easy-to-use micro:bit and create self-driving cars, music makers, remote controlled selfie-cameras and fun displays amongst much more. The micro:bit has a 25 red LED display in a five by five grid, which lets you create displays of everything from hearts to smiley faces and even scrolling messages. You can use the micro:bit to detect movement, speed, certain metals and even which way you're facing. All you need is a computer and you're ready to go, as the micro:bit comes with a microUSB-to-USB lead, two AAA batteries and a battery holder included. You can program games, experiments or robots and connect the micro:bit to a wide range of outputs, from LEDs and speakers to cars and robots, for a range of exciting and interesting activities.
What can I program with my micro:bit?
The BBC micro:bit offers a great introduction to programming. Every LED, button, input, output, accelerometer and magnetometer can be customised and experimented with separately, and everything operates through Bluetooth Smart Technology. The micro:bit can power itself through the USB while it is connected to your computer, or alternatively can be powered by two AAA batteries (included). With its compact size and light weight, you can take your micro:bit anywhere. The software for the micro:bit is internet based and there is also a compatible mobile app that lets you program wherever you go.
What can I use the micro:bit with?
The micro:bit has five ring input/outputs including power, ground and three I/O (general input/output connection) to let you receive information sensors or control motors, LEDs or servos. You can connect the micro:bit to other devices – including Raspberry Pi, Arduino, Galileo and Kano – through the 20-pin connector with a standard connector. Using the built-in Bluetooth Smart Technology, you can connect to other micro:bits as well as tablets and smart phones.
What is the micro:bit?
The BBC micro:bit is a pocket sized computer that puts you in the driving seat, letting you program every part of the board. A collaboration between 31 partners, the micro:bit has been released as an initiative to get everyone interested in programming and inspire creativity with technology. The board comes in one of four colours (red, green, blue or yellow) at random. You don't need to have any knowledge or experience to start using the micro:bit – so see what you can create today.
Tutorials
Resources
Recommended Courses for Micro:Bit