Description
Ethernet cable is a type of data cable that is commonly used for local area network (LAN) connections. It is a wired technology that allows devices to communicate with each other by transmitting data over a physical cable. Ethernet cables come in a variety of types, such as Cat5, Cat5e, Cat6, and Cat7, with each type offering different performance characteristics, such as faster data transfer speeds and improved reliability. Ethernet cables are typically used to connect computers, routers, switches, and other network devices together, creating a local network that allows devices to communicate with each other and access the internet. Ethernet cables are popular due to their cost-effectiveness, reliability, and ease of use, making them a preferred choice for many businesses and home networks.
Features
Gold-plated Connectors
Stable Transmission
Pure Copper Conductors
Less Signal Loss
Stranded 4 Twisted Pairs
Anti-electromagnetic Interference
Triple Protection of Patch Cables
RJ45 modular plug, PVC Jacket and strain relief boot to increase the service life of the cable.
RJ45 Modular Plug
Modular plug enhances the stability of the network connection.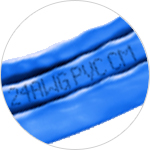 PVC Jacket
PVC Jacket has good flame retardant performance.
Strain Relief Boot
The boot increases the friction for plugging and unplugging.
Widely Used in Equipment with RJ45 Ports
This cable is suitable for all devices with RJ45 jacks, such as PCs, servers, printers, routers, switches, media players, NAS, VoIP phones, PoE devices, and more.
Spine-Leaf Architecture Achieve Larger Network Scale
Prevent network bottlenecks, reduce network latency, and expanding bandwidth and scalability for future network expansion.
Copper Cabling Solutions for Data Center
Provide cost-effective copper cable solutions for major corporations, medium-sized and small enterprises data centers.
Fluke Networks-Cable Testing
The patch cables pass the Fluke Patch Cord Test and deliver specified testing report, in which includes NEXT, PS NEXT, ACR-F, PS ACR-F, ACR-N, PS ACR-N as well as RL.
Tutorials
Resources
Recommended Courses